Hotel Rooms
To ensure a comfortable stay, most of our rooms are equipped with a private bathroom with a shower or bath, toilet, hair dryer, telephone, television and free access to wireless internet. New City Hotel Scheveningen offers comfortable rooms for budget rates.
The Basic Roomtype is the only room type that has a bathroom in the corridor. All rooms on the back side of the hotel have a private balcony.
Additional information
The hotel does not have a 24-hour reception. Guests can check-in until 21:30 h. In case you would like to check-in after 18:00 h, you need to contact the reception in advance. (Extra costs for checking in after 21:30h.)
Pets are allowed.
Luggage can be stored at the hotel
Check in from: 15.00
Check out before: 11.00
Breakfast is not included in the room price
Citytax is NOT included in the room price and costs € 5.35 per person per night (€5.35 per person per night from 2021)
Children: One child up to 12 years old can stay for free in the parents' room, when no additional bed is needed. A maximum of one additional bed can be placed on request
Baby Crib: The size of the crib is 60cm x 100cm, on request
Cancellation Policy
If you cannot take up your booking, you need to cancel no later than 48 hours before your date of arrival. Please take into account that the date of arrival starts at 0.00 am (CET.) Any booking not taken up and not cancelled 48 hours before arrival will be billed at a cost equivalent to the price of the first night. A different cancellation policy may apply for group bookings. The hotel will contact you within 24 hrs. if this is the case.
Roomtypes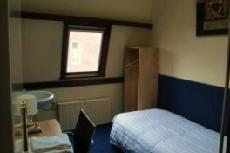 Basic Single Room
The basic single room is equipped with a television and a telephone. The bathroom needs to be shared and has a shower, toilet and a hair dryer.
Rates from €55,00 – €70,00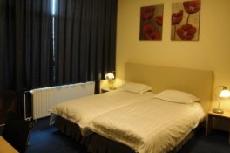 Double Standard Room
The double standard room is equipped with a television, telephone and a private bathroom with shower, toilet and hair dryer.
Rates from €75,00 – €125,00